いよいよ、スチームガーデン5回目のイベント Future Western 開催日が近づいてきました。
今回も私はタイムスリップした世界の中で奇術師を演じます。
「実際には存在しない歴史」「19世紀から見た未来」をコンセプトに作り上げられた
不思議でアートなステージショーをお届け致します!
※以下告知文
東京発明者協会 PRESENTS
EPISODE5 FUTURE WESTERN
Asia's No.1 steampunk event!
4 International performances from Cirque-du-soleil members and Las Vegas performers!
5 top DJ's playing adventurous music exclusive to Steam Garden.
20 booths from Japan's most exciting creators and designers.
90% customers repeat
アジア圏、最大のスチームパンクパーティ
シルク・ドゥ・ソレイユのメンバー、ラスベガスにも出演する国際的な4組のパフォーマー
スチームガーデンに特化された5人のユニークなDJ陣
国内先鋭作家による20店近くのブースが出店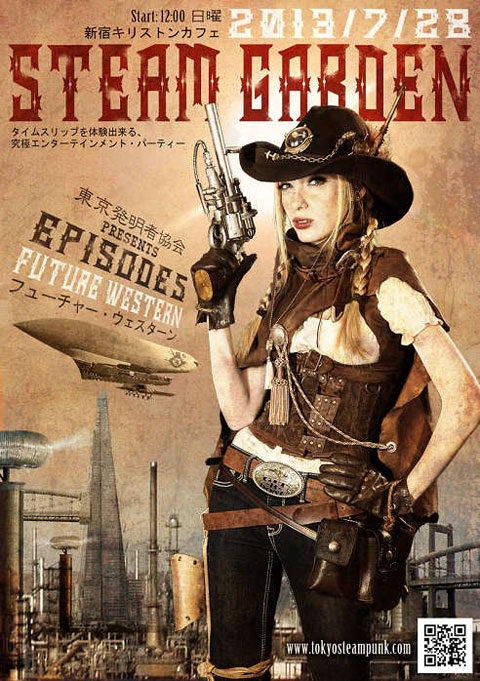 ◆タイムトラベルの予定時刻 Time-travel schedule
2013年 7月28日 (日曜日) 28th,july.2013
12:00(昼)スタート 12:00(NOON) start
◆到着地点 Destination
新宿 キリストンカフェ
Christon Cafe Tokyo(Shinjuku)
〒160-0022 東京都新宿区新宿5-17-13 オリエンタルウェーブ8F
03-5287-2426
◆入場料 Entrance fee
3500円 (一般) On door 3500yen
3000円 (前売り) Advance 3000yen
5000円 (SGスペシャルランチ付き、前売りチケットのみでの完全予約制です。)
前売りチケットを、新宿アビエタージュ・原宿と新宿のa storyにて販売中。
Advance tickets 3000 yen, (on door 3500)
Special lunch plate ticket for 5000yen (advance only)
Advance tickets available at "Abilletage (Shinjuku)", "A story(Shinjuku, Harajuku)"
 まだ誰も体験したことのない、まったく新しい世界を旅しませんか?
----我々TISは、あなただけのオリジナルストーリーを提供します。----
Tokyo Inventors Society will take you to a whole new world!
◆あらすじ◆ Story continues...
1890年代 アメリカのどこか…
Somewhere in the United States of America, 1890's
City of hope "Futurion" 希望の街 フューチャリオン。
ここはサイエンティストの Dr Xが砂漠だった荒野を都市に変えた産業革命の夢の街。
そこに暮らす裕福な人たちは、機械の発達により、労働する事なく過ごしています。
アメリカンドリーム!世界中からいろいろな人がこの街に憧れ、賑わいをみせています。
みんなに希望を与え、また、発明を見せるために、毎日のように行われる国際博覧会
いま再び、あなたの見たことのない、全く新しい出来事を体験しましょう!
主役はもちろん皆様です!!
Thanks to the inventions of Doctor X, "Futurion", the city of hope,rises from the desert.
People long to come to this city from all over the world, to see the future American dream.
Every day is a World EXPO, with a carnival atmosphere!
We have no dress code!
Please feel free to wear lovely 19th-century fashion, or steam punk, or your usual clothes!
We have no age limit, but the sale of alcohol and tobacco class to 20 years of age will be refused.
Right of admission reserved.

◆出演者 Performers
奇術師 / Illusion Magic show : Feel (Magician Takuya & Tap dancer Sakura)
吟遊楽団 / Music-hall band : The Tragicomics
曲芸団 / Arial circus performance : Alk
踊り子 / Saloon girl dancer : Bonnie

蓄音機 Gramophone : Kenny Creation, Sa-Kyo, Nemo, Misa, Raytrak
幻灯機 Magic lantern : Sa-kyo
進行 Master of ceremonies : Luke Chaos, Kenny Creation

◆蒸気市場 Steam Guild Market
Sincerely / Dress maker
Nude N Rude / Accessory and clothes
abilltage / Accessory and clothes
Groove / Doll maker
A Story / Watch maker
Kiterethu / Watch maker
Candy Noir / Hat maker
Klang / Accessory
Foret / Accessory
Fiona Wichcraft Shop / Accessory
蒸朧工房 / Accessory
Leather Craft_5160 / Leather maker
Graphic-sha / Steampunk Books and Magazines
Eldred / Gallery
Taro Irei Photo / Charity photo booth
Chillin' / Hookah/shisha
Absinthe Green Fairy / Absinthe bar
Outlaw Plate / Special lunch (adv only)

...and more!